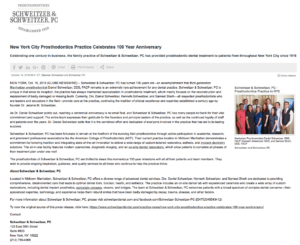 Celebrating one century in business, the family practice of Schweitzer & Schweitzer, PC has provided prosthodontic dental treatment to patients from throughout New York City since 1918.
Midtown Manhattan, NY – Schweitzer & Schweitzer, PC has turned 100 years old—an accomplishment that third-generation Manhattan prosthodontist Daniel Schweitzer, DDS, FACP remarks is an extremely rare achievement for any dental practice. Schweitzer & Schweitzer, PC is unique in that since its inception, the practice has always maintained specialization in prosthodontic treatment, which mainly focuses on the reconstruction and replacement of badly damaged or missing teeth. Currently, Drs. Daniel Schweitzer, Kenneth Schweitzer, and Sameet Sheth—all respected prosthodontists who are leaders and educators in the field—provide care at the practice, continuing the tradition of clinical excellence and expertise established a century ago by founder Dr. Jerome M. Schweitzer.
As Dr. Daniel Schweitzer points out, reaching a centennial anniversary is no small feat, and Schweitzer & Schweitzer, PC has many people to thank for their vital commitment and support. The entire team expresses their gratitude for the founders and principle leaders of the practice, as well as the continued loyalty of staff and patients over the years. Dr. Daniel Schweitzer adds that it is the combined effort and dedication of everyone involved in the practice that has led to its lasting success.
Schweitzer & Schweitzer, PC has been fortunate to remain at the forefront of the evolving field prosthodontics through active participation in academia, research, and prominent professional associations like the American College of Prosthodontists (ACP). Their current practice location in Midtown Manhattan demonstrates a commitment to honoring tradition and integrating state-of-the-art innovation to deliver a wide range of custom-tailored restorative, esthetic, and implant dentistry solutions. The all-in-one facility features modern operatories, diagnostic imaging, and an on-site dental laboratory, which allow patients to complete all phases of their treatment plan under one roof.
The prosthodontists of Schweitzer & Schweitzer, PC are thrilled to share this momentous 100-year milestone with all of their patients and team members. They wish to provide ongoing inspiration, guidance, and quality services to all those who continue to help the practice thrive.
About Schweitzer & Schweitzer, PC
Located in Midtown Manhattan, Schweitzer & Schweitzer, PC offers a diverse range of advanced dental services. Drs. Daniel Schweitzer, Kenneth Schweitzer, and Sameet Sheth are dedicated to providing comprehensive, detail-oriented care that leads to optimal dental form, function, health, and esthetics. The practice includes an on-site dental lab with experienced ceramists who create a wide array of custom restorations, including dental implant prosthetics, porcelain veneers, crowns, and bridges. The team at Schweitzer & Schweitzer, PC welcomes patients with a broad spectrum of complex dental concerns—their specialized expertise, technology, and experience helps them rebuild smiles that have been badly damaged by decay, trauma, disease, and other factors.
For more information about Schweitzer & Schweitzer, PC, please visit schweitzerdental.com and facebook.com/Schweitzer-Schweitzer-PC-204702349543412/.
Contact:
Schweitzer & Schweitzer, PC
133 East 58th Street
Suite #803
New York, NY 10022
(212) 759-4969
Rosemont Media
(858) 200-0044
www.rosemontmedia.com
Previous Post
Next Post