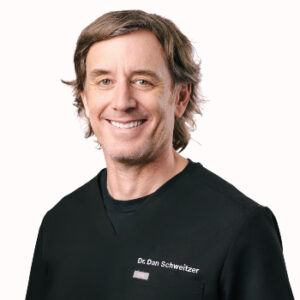 Dr. Daniel Schweitzer attended New York University College of Dentistry on Merit Full-Scholarship and graduated in 1996 with his DDS degree. He subsequently completed a General Practice Residency at Montefiore Medical Center in 1997. Dr. Schweitzer then returned to New York University to receive a certificate in Prosthodontics in 2004, and complete a 2-year Surgical Fellowship in the Department of Implant Dentistry in 2006. Dr. Schweitzer is currently a Clinical Assistant Professor in Implant and Prosthetic Dentistry at NYU. He was a recipient of the Dr. Harold E. Litvak Junior Fellowship in Prosthodontics in 2002, and was made Chief Resident of the Advanced Education Program Prosthodontics in 2003. Dr. Schweitzer has published several scientific articles and lectured nationally and internationally on his research. He was also awarded 1st Place in the John J. Sharry National Research Competition at the annual session of the American College of Prosthodontists in 2003. In 2012, Dr. Schweitzer achieved Diplomate Status of the American Board of Prosthodontics, and in 2014 served as President of the American College of Prosthodontists, New York Section. Dr. Schweitzer maintains active membership in the American College of Prosthodontists, and the Greater New York Academy of Prosthodontics.
I have been a patient on Dr. Dan Schweitzer since the early 2000's. I've always received excellent one on one care not only from him but also from his entire staff. I look forward to being their customer for many years more.

katrina kimmich

September 17, 2020
More Reviews
What Is a Prosthodontist?
A prosthodontist is a dentist who has undergone an additional three years of advanced post-graduate prosthodontic training beyond dental school. This training program must be accredited by the American Dental Association. This coursework focuses on developing a skill-set that enables a prosthodontist to design, manufacture, and place custom dental restorations and prosthetics to restore and rebuild healthy, functional, beautiful smiles. A prosthodontist is frequently called upon to replace missing teeth, rebuild damaged tooth structure, create a functional bite, and improve smile esthetics. Prosthodontists typically offer a broad range of reconstructive, restorative, general, and cosmetic dentistry options, including dental implant surgery, dental bone grafting, periodontal treatments, and root canals, as well as the design, fabrication, and placement of dental implant prosthetics, dentures, crowns, bridges, and porcelain veneers.
Why Should I Choose a Board-Certified Prosthodontist?
A board-certified prosthodontist has both completed an ADA-accredited post-graduate prosthodontics program and passed a rigorous series of exams given by the American Board of Prosthodontics (ABP). Board certification in prosthodontics is a strenuous process and not all prosthodontists choose to take or pass the exams to become board-certified. Those who become board certified must pass the ABP's four-part exam and the process is designed to identify those candidates who demonstrate the specialized knowledge, skills, and attributes necessary for this prestigious designation. Diplomates of the American Board of Prosthodontics are also identified as individuals who are dedicated to ongoing learning, upholding the highest ethical standards, providing quality patient care, and furthering the advancement of prosthodontics. To maintain board-certification a prosthodontist must recertify every eight years.
Choosing a board-certified prosthodontist, like Dr. Dan Schweitzer, can assure you that you've picked a practitioner who has met the highest professional standards in the field. Selecting Dr. Schweitzer for your care can offer several important advantages:
He incorporates the latest diagnostic and treatment techniques, as well as tried and true traditional approaches.
He demonstrates proficiency in all key areas of prosthodontics.
He creates highly customized treatment plans that emphasize foundational oral health, optimize function, and create natural-looking smiles.
He has advanced training and skill in the design, fabrication, and placement of dental restorations and prosthetics.
He has extensive experience in implant dentistry and additional surgical procedures that support implant success, such as bone grafting and soft tissue procedures.
He has an ongoing focus on continuing education.
He has made a binding commitment to operate with ethical conduct in all areas of practice.
If you are searching for a skilled and experienced board-certified prosthodontist, we encourage you to contact Schweitzer & Schweitzer to schedule an appointment with Dr. Schweitzer.
How to Select the Best Prosthodontist for Your Needs?
A board-certified prosthodontist is often a suitable choice for patients who are experiencing complex dental challenges that include missing teeth, badly damaged teeth, jawbone recession, damaged dental work, dental injuries related to trauma, sub-optimal esthetics, periodontal issues, and other assorted dental concerns. Since trusting your smile to a prosthodontist is a big commitment, we suggest thoroughly researching practitioners online and meeting them in-person to determine whether they are the right fit for your needs and expectations. To assist you in this process, we have provided a list of questions that are important to answer when evaluating prosthodontists:
What are their credentials? Are they board-certified?
Do they have a trustworthy background? Are they in good standing with the ABP?
Does their practice follow proper safety and infection control protocols?
How many years of experience do they have?
Does their approach to treatment begin with a comprehensive diagnostic evaluation?
Do they frequently perform the procedure(s) you are interested in? How many cases have they handled that are like yours? Are you able to review before-and-after photos of these cases?
Are complex treatment plans performed in stages?
Are they properly licensed and trained to provide sedation?
Are restorations and prosthetics crafted with high-quality materials? Do they have an onsite dental lab and an experienced ceramist on staff?
What do former patients say about their experience? Review testimonials and explore online ratings and reviews for information.
Does the practice utilize advanced technology to enhance treatment outcomes?
Do you feel comfortable with them and confident in their abilities when you meet in-person? Do you feel heard and understood when you discuss your concerns and goals?
Does their pricing reflect a good value for high-quality care? Is your dental insurance accepted? Are payment plans and third-party financing options available for costly treatment plans?
If you have questions about our practice or want to learn more about our prosthodontists, we encourage you to contact Schweitzer & Schweitzer. Our office team is knowledgeable and experienced and can help answer any questions you may have. Additionally, our office team can assist you in scheduling a consultation with one of our prosthodontists. During this appointment you will have the opportunity to meet with a prosthodontist in-person to discuss your dental needs, explain your goals, and ask questions. You will also undergo a full examination to precisely identify the condition of your dental health, which allows your prosthodontist to develop a customized treatment plan that restores optimal health, function, and esthetics. Before you decide whether or not to move forward with treatment you will be able to discuss the cost estimate for your care with our team—together you can review your insurance coverage, financing options, and accepted payment methods. Our goal is to make care as affordable and accessible as possible without compromising on quality.
Q & A with Dr. Dan
Q: What drew you to the field of prosthodontics?
A: Prosthodontics is our family business—Schweitzer & Schweitzer was established in 1918 and I was drawn to the profession from a young age. I am most interested in the problem solving and biomechanical aspects involved in periodontics. I also find the social aspects of my job to be very interesting and satisfying as well.
Q: What is your favorite procedure to perform and why?
A: Denture making is probably my favorite because it is the most artistic. Implant placement is very satisfying as well because it is the most "biological" tooth replacement option.
Q: Do new advancements in treatment and/or technology excite you?
A: Yes, at Schweitzer & Schweitzer we utilize technology to treat patients more effectively and economically. This is the ultimate goal of a scientific profession.
Q: What is one thing you'd like patients to know about you?
A: I'm very friendly and passionate about my work.
Q: How do you work to provide patients at your practice with a great experience?
A: I spend just as much time making a connection with each patient as I do working on their teeth.
SCHEDULE AN APPOINTMENT
From routine teeth cleanings to dental implants, Dr. Schweitzer will be happy to address your oral care needs and help you achieve a healthy, beautiful smile. To schedule an appointment, please contact our practice today.