Dental Insurance
If you have dental insurance, our office will complete an insurance form for you to forward to your insurance carrier for reimbursement.
Our office has providers that actively participate with Aetna Dental Extend Insurance, Delta Dental PPO Insurance, and Cigna Dental PPO Insurance. If you have questions regarding this please contact our office.
Please be aware that we do not actively participate in any other insurance plans besides Aetna Dental Extend Insurance, Delta Dental PPO Insurance, and Cigna Dental PPO Insurance. Hence, your insurance plan may not cover the partial or full expense incurred for treatment rendered. Coverage of dental treatment fees issued by our office is constituted strictly by the relationship between you and your insurance carrier.
Payment Options
Payment for treatment rendered is expected at time of service. For you convenience, we offer the option of payment by cash, check, or credit card. Our office is a fully approved and accredited user of Visa, Mastercard, Discover, and American Express cards.
Time is reserved exclusively for you. If you are unable to make an appointment, please notify the office 24 hours prior to your scheduled appointment to avoid a cancellation fee subject to the doctor's discretion.
Dental Financing with CareCredit®
We have partnered with CareCredit, a third-party lender that offers financing options for healthcare services, to provide our patients with more ways to pay for their dental care. For applicants who qualify, CareCredit delivers a variety of loan services to choose from, including no- and low-interest loans and flexible payment plans. The online application process is easy to follow and notice of approval is sent quickly, so that you can get started with your treatment. Find out if you qualify by applying with CareCredit today!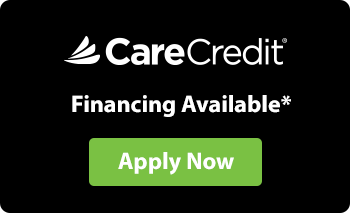 Payment Plans
We offer a variety of payment plans to make the cost of extensive dental treatment more manageable. Our business manager can help structure a suitable payment schedule based on the following models:
Payment in Thirds: Pay for your treatment in thirds over the course of your care. When an approximate price and time commitment have been established for your dental treatment, our business manager can schedule three payments for one third of the overall fee at the beginning, middle, and end of your treatment.
Automatic Monthly Credit Card Billing: Break your overall treatment cost into monthly payments that will be automatically billed to your credit card. It is required that your balance be paid in full before the end of your treatment.
Phased Treatment: It may be possible to prioritize and deliver your treatment in phases to make payment for your care more comfortable and convenient. Your doctor will play an important role in determining if this is a viable option for your treatment.