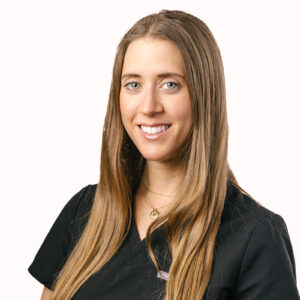 Dr. Alexa Schweitzer attended the University of Pennsylvania School of Dental Medicine and graduated in 2019 with her DMD degree. She graduated with Honors in Clinical Dentistry and was a recipient of the highest scholastic honor conferred at Penn Dental Medicine as a member of the Matthew Cryer Honor Society. She is also a member of Omicron Kappa Upsilon and the National Dental Honor Society, as well as a recipient of the Student Award for Merit in Excellence in Prosthodontic Dentistry, Hanau Excellence in Prosthodontics Award, and Achievement Award in Pharmacology and Therapeutics.
Dr. Schweitzer subsequently completed her Advanced Education in Prosthodontics Residency at Montefiore Medical Center Albert Einstein College of Medicine and received her Prosthodontic certificate in 2022. Here, she was Chief Resident from 2021-2022 and received the Leo M. Davidoff Society Award for Outstanding Achievement in the Teaching of Medical Students. Dr. Schweitzer also received first place awards in national competitions (2019, 2021) for her clinical research on the treatment of infants with cleft lip and palate.
Furthermore, Dr. Schweitzer has published several scientific articles and lectured nationally and internationally. She is currently a Clinical Professor in Prosthetic and General Dentistry at Montefiore Medical Center Albert Einstein College of Medicine, and a member of the hospital's Craniofacial Team. She is an active member of the American College of Prosthodontics and is currently challenging the American Board of Prosthodontics to achieve Diplomate Status.  
Schedule a Consultation
To schedule an appointment with Dr. Alexa Schweitzer, feel free to contact our practice today.