At Schweitzer & Schweitzer, PC, we operate an onsite dental laboratory in which all of our dental restorations and implant prostheses can be beautifully crafted. We believe our work as prosthodontists is only as good as the final result, which demands that every phase of treatment is guided by adherence to the highest standards of excellence. For this reason, we rely on our state-of-the-art laboratory and experienced master ceramists to deliver high-quality restorations that are customized to fit our detailed specifications. Due to the increasing demand for reputable dental lab services in the area, we are open to partnering with other dental practices who seek the materials, techniques, convenience, and quality our onsite lab offers.
Providing Dental Laboratory Services for Other New York City Practices
In addition to providing our own patients with world-class restorations and implant prostheses, our dental lab also serves other practices in the area that value the precision, esthetics, pricing, and consistent reliability of our work. If you are interested in utilizing the broad spectrum of dental laboratory services we offer at Schweitzer & Schweitzer, PC for your own dental practice, please contact us to discuss your needs and find out how we can assist you.
Creating Top-Quality Restorations
Achieving the best outcomes in restorative and esthetic dentistry relies heavily on the materials, design, coloration, and fabrication techniques used to create each restoration. Our master ceramists have expertise in creating the following types of restorations with exceptionally natural-looking results: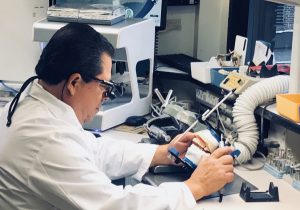 Using materials that are known for their strength and durability allow our prosthodontists to perform more conservative procedures that preserve healthy tooth structure and provide long-lasting results. Furthermore, many of these same innovative materials offer impressive cosmetic properties, which closely mimic the appearance of natural teeth. Whether you are interested in matching your restoration to your surrounding teeth or creating a completely new smile, our onsite dental lab can likely meet or exceed your expectations.
Choosing the Right Restorations for You
After a thorough consultation process and discussion of the dental concerns you are facing, your prosthodontist will carefully outline the details of your treatment plan. He will also explain all of your choices regarding the design and fabrication of your restorations and lay out the benefits and drawbacks of each option so that you can make the most informed decision.
Benefits of Our Dental Lab: Quality, Convenience, and Consistency
The three biggest benefits of our onsite lab are the quality, convenience, and consistency it adds to our practice. There is no need to worry about extra time spent waiting on your veneers or crowns to be shipped back and forth to an off-site lab; you can expect to receive your final restorations in a timely manner. Additionally, any adjustments and repairs are also speedier and more convenient. All of our prosthodontists enjoy the reliability our onsite lab provides, allowing them to consistently deliver excellent results that our patients can enjoy.
If you have questions about our onsite dental lab or want to schedule a consultation with one of our prosthodontists, please contact Schweitzer & Schweitzer, PC.